Manuela Scotaccia, Italy
Gent. sig. Nguyen, desidero ringraziarla per il bellissimo viaggio in Vietnam che la sua Agenzia ci ha organizzato. Siamo stati molto contenti del vostro servizio e della vostra correttezza. Consiglieremo la Sua Agenzia ai nostri amici che lo richiederanno.
Cordiali saluti
Manuela Scotaccia
VIETNAM 9 giorni 8 notti, Agosto 2016
Manuela Scotaccia <manuela.scotaccia@gmail.com>

Mrs. Uma Mohan, India
Dear Phuong, Greetings !!! As per our first booking, my guest is returning today & they are very happy with your service, I on behalf of my client & on behalf of our organization would like to congratulate Ms.Phuong Freya who did her work outstandingly well. I would like to thank Ms.Phuong for being the best host for my guest. I would like to thank your organization too.
Thanks & Warm Regards,
Mrs. Uma Mohan, India
7D6N Hanoi & Ho Chi Minh Honeymoon Package, 14-20 May 2016

Robert Durrand, British
Hello! We all really enjoyed our trip to Vietnam and had a very good time, some thing were better that others and i will expand on this. On arrival at Hanoi we were met by Tony and the driver and were very well looked after. The hotel was very nice and we were all impressed by the attitude of the staff, all very polite and helpful. The cruise at Halong Bay was for me the highlight of the tour, the accommodation on board was very nice and the food really well presented and tasty.
The setting was great and plenty of activities during the day. A very good experience and i will definitely like to do it again.

Ho Chi Minh hotel was again very good, the staff were perfect and the rooms clean and well furnished with all amenities provided. Our guide and driver there were also very helpful and very knowledgeable about the history of Vietnam. My best memory of that part of the tour is the tunnels and Cu Chi.

Things to improve could be that there were no seat belts available in either of the busses and as the roads were sometimes not not the best and very busy i felt that belts should have been fitted, especially as we had children with us.

The set lunches and dinner included in the tour were nice, however a little more variety would have been nice.

We also felt that a little more free time would be good, it was a very full program. Having said that it is not your fault about that, we agreed to the offer and also had the right to cancel some events, which we did.

So to conclude, i was very happy with the organisation and price. The information you supplied was extremely helpful and very informative. The people we met were all very friendly and helpful. Vietnam is indeed a beautiful country and i would definitely visit again and would have no hesitation in using your company or recommending your company to friends.

Thank you very much for a great tour and for all your help, very enjoyable and memorable.

Very kind regards,

Robbie Durrand
8D7N Hanoi – Halong Bay Cruise – Ho Chi Minh, Aug 2013
Robert Durrand [robbied133@hotmail.com], British

Mrs.Vidhya, India
Dear Mr.Dung, I would like to thank you for the tour arrangements made by your team in Vietnam and Cambodia. We enjoyed our stay and were comfortable with all arrangements. Here I would also like to mention the commendable work done by Ms.Phuong. She was continuously monitoring our status through what'sapp. That is the reason we felt at home in a new country. Thanks to her.
We are back safe. Thanks once again.

Regards,
Mrs.Vidhya
Vietnam & Cambodia 10 Days, Dec 2015
Vidhyapriya Rajan [vidhyapriyarajan@yahoo.com], India

Varghese Bejoy, India
Vietnam amazing trip, Ho Chi Minh - Hanoi - Ha Long Bay Cruise Overnight 7 Days 6 Nights. Everything was very good.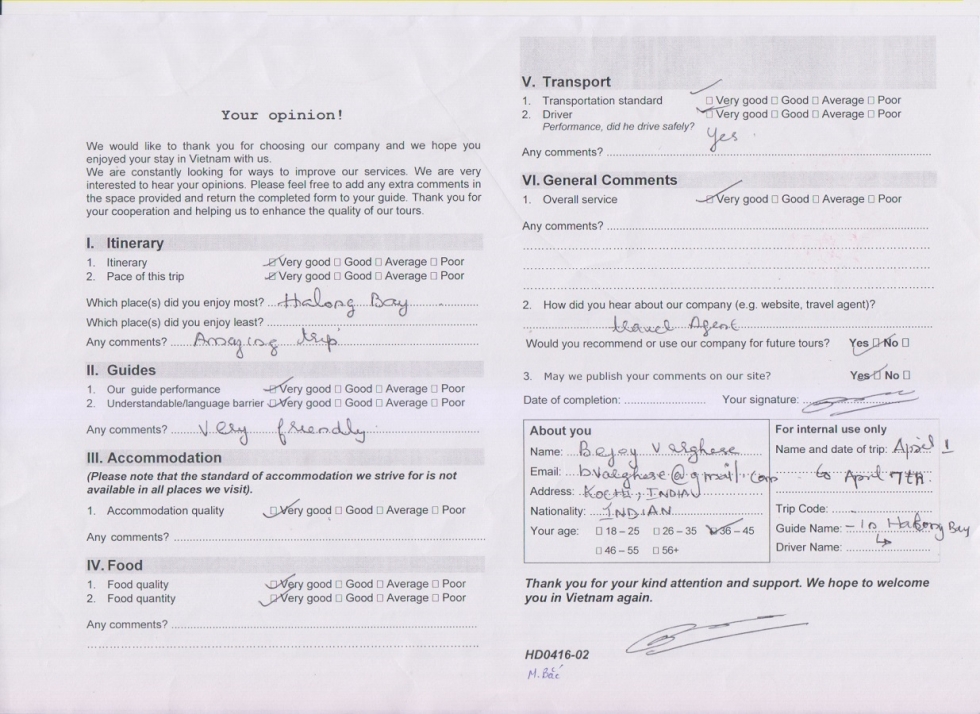 Mohd Aiman Bin Mohamad Adam, Malaysia
I hope I can see Mr. Loc again. I will recommend to my relative and friends about our trip, 5D4N HANOI - TRANGAN - HALONG, MARCH 2016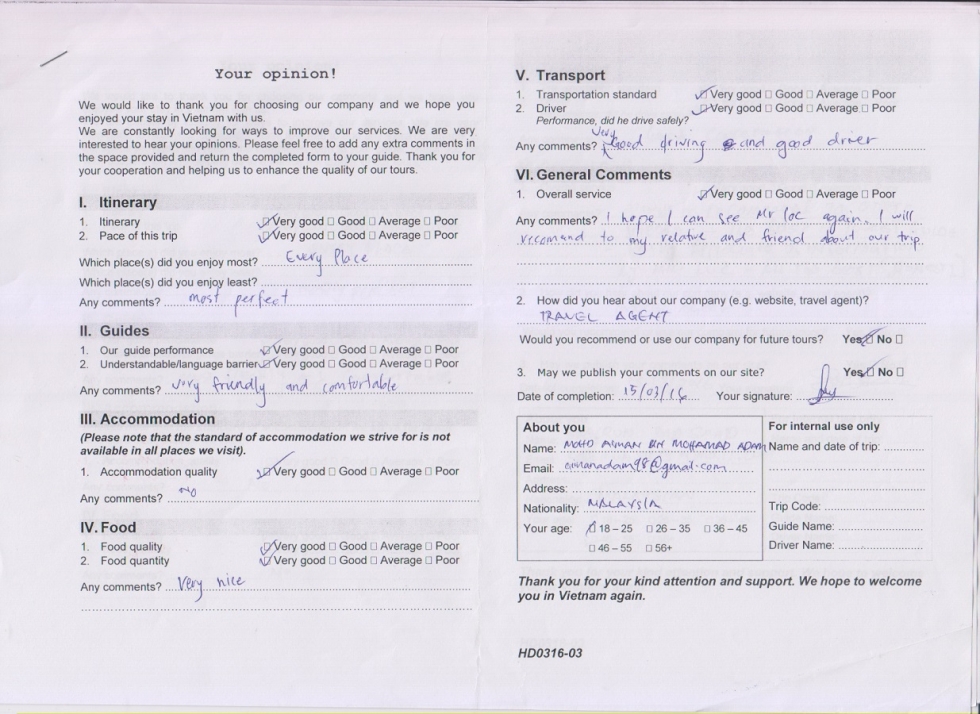 Mr.Janis & Mrs.Guna, Latvia
Dear Mr. Dung, Many thanks once more for your care regarding our first Vietnam tour! People are very satisfied- everything was good organized and a lot of impressions! Thank you for our meeting, gifts and extra dinner ! Sincere greetings also to your colleague we met (please write us her name). Now we know much more about Vietnam and it will be much easier for us to organize next tour. Hope to do it at least next year.
Our Best Wishes and Regards,
Mr. Janis & Mrs Guna
Vietnam & Cambodia 10 Days, October 2015

Donna Kong, Singapore
I would like to write to you in regards to the wonderful trip that I had. I'm so grateful for all the arrangements that you helped with. The Vespa tour was awesome! There is no other way to visit Hanoi's night life than through Vespa. The English speaking guides were extremely knowledgeable and patience with us when we wanted to take photos at every stop J. The V'Spirit Halong Bay Cruise was amazing!
Although it's a budget cruise, the food and service was astonishing and a great value for money. No to mention that the rooms were very clean. Morning Tai Chi was great and an experience of a lifetime. On the final day, your tour guide was really nice. He brought us to the places where we wanted to go and eat, great recommendations. A huge applause to your driver. The ride was safe.
Donna Kong | CDD Operations APAC | Singapore
Hanoi & Ha Long Bay, April 2015
Francisco Cipriano, Portugal
Dear Mr. Dzung Nguyen Manh. Everything was very good. You guides in Hanoi and in Cambodia. Two very good guides, very helpful and very qualified. They took good care of us. The guide in Saigon, was good. The transportations was perfect during all trip. The hotels and restaurants, the same. We really appreciate all the efforts to overcome the bad weather in Halong Bay. You have done the best you could. However, we would like to pass more time in the boat. It was really a short version.
Thank you for your help. It was a very good trip.

All the best,

Francisco
Vietnam & Cambodia 17 Days, 5 Aug 2013
Francisco António Cipriano [francisco.cipriano@madr.gov.pt], Portugal

Lourdes Ibarra, Philippines
Dear Dzung. We enjoyed the whole trip. We wish we had more time to enjoy. It's a personalized service and 5 star at that. The company is very attentive to the guests and made our stay indeed a memorable one. Tour guide is very good. He is excellent and give personnal touch to the needs of customers. Very pleasant personality. Driver is very careful and attentive, meeting our safety and security. We will sure recommend the conpany's services to friends and staffs.
Thanks so much... You are very efficient!,,, great!!
Lourdes Ibarra
4D3N Hanoi – Ha Long, June 2013
Lourdes Ibarra [ibarra.lourdes@gmail.com], Philippines